Web interfaces enhance TURNOVER application lifecycle management and EXPRESSDESK problem and incident management user experience
PETERBOROUGH, NH, February 27, 2018 – SoftLanding Systems, the IBM i software division of UNICOM® Global, has announced the release of new enterprise-class web interfaces for its application lifecycle management and helpdesk solutions, TURNOVER® for iSeries and EXPRESSDESK® for iSeries. The new interfaces are intuitive, easy to use, and feature a fully responsive touch-screen design, giving users the flexibility and productivity benefits of switching seamlessly between their desktop, tablet or smartphone devices.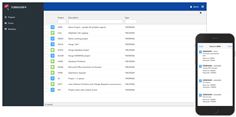 The new mobile-friendly interface for SoftLanding's TURNOVER application lifecycle management solution is designed for anyone responsible for reviewing and approving the promotion of software changes, as Jim Fisher, SoftLanding Operations Manager, explained:
"With audit compliance driving the demarcation of responsibilities around software release management, the new TURNOVER interface provides operations staff with an at-a-glance view of project tasks, promotion forms, and developer worklists, all optimized for the device they are working on. Users will be able to review code changes, compare different versions of source code, review and comment on IBM i and non-IBM i items that are being deployed, and approve changes while on the move."
The new web interface is accompanied by a number of usability enhancements to TURNOVER's Eclipse-based integrated development environment, including improved cross-referencing, easy navigation between linked tasks, and the addition of filtering within the change monitor view.
The new web interface for SoftLanding's EXPRESSDESK problem and incident management solution features a fresh, modern and mobile-friendly design that gives end users the flexibility to create, update and track helpdesk incidents from either a desktop, tablet or smartphone in order to get them resolved as quickly as possible. End users can also access a knowledge base, as well as view relevant company news and updates – such as notices of any service interruption or downtime.
"Expectations within the workplace have risen as more and more employees use their own mobile electronic devices to connect to corporate networks," said Fisher. "Business users want to be able to interact with their technical colleagues while on the move, and companies are keen to help staff become more self-sufficient in order to reduce their reliance on the IT helpdesk function that all too often becomes a bottleneck within the organization."
Fisher went on to say, "The new release of EXPRESSDESK with its easy-to-use web interface does a great job of satisfying these changing needs of the modern workplace."
SoftLanding's TURNOVER for iSeries is a powerful application lifecycle management solution for the IBM i platform. Designed to manage even the most complex of development environments, it provides granular control over the software change process, using automation to cut errors, and process workflows that allow changes to flow swiftly from request through to production.
The EXPRESSDESK solution offers comprehensive problem and incident management capabilities that optimize technical support efficiency by combining a full-service IT helpdesk with browser-based end user self-service.
---
About SoftLanding® Systems www.softlanding.com
SoftLanding, a division of UNICOM® Global, specializes in software solutions for the IBM i and Power Systems platform.
SoftLanding's application lifecycle management solution helps IT teams to deploy software changes faster, with less effort, and eliminates errors throughout the entire development process.
The company's enterprise content management solution releases the power of digital communications through web, mobile and email channels, without changes to existing IT systems and applications.
SoftLanding's automated operations and performance management solutions keep core business systems running at optimum levels and prevent unplanned application downtime. The company's menu management solutions offer easy access to corporate business applications running on IBM i.
About UNICOM® Global www.unicomglobal.com
UNICOM UNICOM Global consists of more than forty (40) corporate entities encompassing a wide range of businesses across all geographic regions. With its corporate headquarters in Los Angeles, California, to offices in Illinois, Kentucky, Florida, Massachusetts, Maryland, Minnesota, New Hampshire, North Carolina, New Jersey, New York, Texas and Virginia, throughout EMEA in the UK, Ireland, Germany, France, Italy, Spain, Belgium, Switzerland and the UAE, and across Asia/Pacific with locations in China, India, Australia, Singapore, Korea, Thailand, Taiwan and the Philippines.
UNICOM Global offers deep in-house resources and flexible IT solutions to our partners worldwide. UNICOM Global focuses on acquiring and integrating mature and growing mid-cap NASDAQ, London Stock Exchange AIM and German publically-traded companies in technology, financing, IT, real estate, and business services. Please visit our websites for additional information about the services, products and solutions that UNICOM Global offers:
www.unicomglobal.com UNICOM Global – Assets, capital and investment management
www.unicomsi.com UNICOM Systems – IBM Mainframe software products
www.unicomgov.com UNICOM Government (formerly NASDAQ: GTSI) – Government IT solutions
www.unicomengineering.com UNICOM Engineering (formerly NASDAQ: NEI) Appliance platform
www.unicom.org UNICOM Science and Technology Parks
www.unicom-capital.com UNICOM Capital – Business and Financial Services
www.solidDB.com solidDB – In-memory relational database management system
www.usrobotics.com U.S. Robotics – Data communications products
www.memeo.com Memeo – Enterprise-grade Secure File Sharing for the Cloud
www.firetide.com Firetide – Wireless technology solutions for security and transportation
www.detec.com DETEC – Document composition products
www.softlanding.com SoftLanding Systems – IBM i software products
www.macro4.com Macro 4 (formerly LONDON: MAO) – Document Management products
www.illustro.com illustro – z/OS and z/VSE software products
www.iet-solutions.com iET Solutions – ITIL ITSM software products
www.eden.com Eden – Real Estate and Financial Services
www.cics.com CICS.com – Hardware, Software, Outsourcing and Professional Services
All trademarks referenced herein are trademarks of their respective companies.
Media contact:
Uday Radia
uradia@cloudninepr.com
+44(0)7940 584161