13th February 2017, Bath, UK: MyLife Digital Ltd is pleased to announce the appointment of James Bagan as Sales Director.
Since 2004, James has worked exclusively at Board level across various Private Equity backed businesses. Having focussed on creating value for companies from large PLCs to start-ups, James spent five years as CEO of data management company, Occam. Most recently he ran his own business helping Private Equity backed firms optimise sales. Many of these have been in the technology space, including Hubio, IP Solutions and Autologic Diagnostics.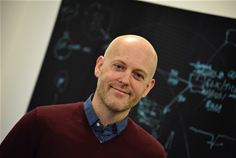 John Hall, CEO of MyLife Digital Ltd, says, "James brings tremendous experience having worked with so many finance-backed organisations. Our partners are critical to our success, and James' experience with companies such as Microsoft, IBM, Salesforce and Capita will prove invaluable.
"James understands how vital it is to deliver a winning, customer focussed strategy and to drive the pace of change required in a fast-growing organisation like MyLife Digital."
Commenting on his appointment, James Bagan says, "Sport and technology are both major influences in my life. I love my rugby and I'm passionate about working in a fast-paced, ever-changing environment, so MyLife Digital couldn't be a better fit for me.
"My approach has always been to truly understand my customers. I thrive on creating plans with a clear focus on value and growth that generate life-changing results for all involved. After speaking to potential customers, we've found that GDPR raises a lot of issues for organisations that need to be addressed immediately. With no direct competitor, this presents a unique opportunity for MyLife Digital to offer its technology platform and applications, allowing organisations to obtain permissions for the use of personal data, drive engagement with their market and create shared value."
To find out more about MyLife Digital visit – www.mylifedigital.co.uk