Mobile Device Management (MDM) solution market expected to grow at a CAGR of 25.4% over the period of 2014-2019, driven by Bring Your Own Device (BYOD) adoption
Miradore Online, the only remaining free MDM solution with support for all major platforms and unlimited amount of devices, growing faster than the market
Largest growth opportunities in small businesses, nonprofits and the public sector
HELSINKI, Finland (May 29, 2015) – Miradore, the pioneer in IT and mobile device management solutions, announces new Business and Enterprise pricing plans for its popular cloud-based Mobile Device Management (MDM) suite Miradore Online. The new plans complement the free version, which is popular especially within SMEs and the public sector.
The company also reports 22% month-over-month growth in the number of mobile devices managed on the system. In 2014 Miradore's revenue growth was 40.9%.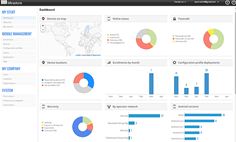 According to
a recent report
by analyst firm TechNavio, the MDM solution market is expected to grow at a CAGR of 25.4% in 2014-2019, driven by increasing BYOD adoption. Miradore Online continues to outpace the market growth significantly.
The new pricing plans offer features for organizations to take better control of their mobile data and devices, such as application management for Android devices, and premium support. Miradore Online continues to have a totally free plan which supports unlimited number of devices.
Miradore's user base demonstrates another reason for the continuous growth – the company's CEO Marko Ruusinen comments: "We've seen increasingly versatile types of organizations starting to use Miradore Online – small and medium size businesses, NGOs, non-profits, schools, universities and other public sector users. For them to select Miradore Online is not a surprise, as it remains the only totally free solution supporting all major mobile platforms, with an unlimited amount of devices to manage".
"These new plans are paid-for, with a small per-device cost, as they bring numerous powerful features which enterprise users prefer. However, the free version will remain free, as it has been a great marketing tool for us – currently Miradore has the number one Google search position for the 'free mdm' searches in most countries. We don't need sales people for Miradore Online, and so there are no upfront costs or minimums commitments; our premium plans start at €0.50 per device," Ruusinen states.
With Miradore Online's free plan, organizations of all sizes can manage and secure their data and mobile devices, whether they are company-owned devices, or employee devices that are approved for business use. Out of the devices managed by Miradore Online, iOS has 43.5%, Android 36.3% and Windows Phone 20.2% shared accordingly. Windows Phone's large share is explained by the platform's popularity in Miradore's home market, the Nordic countries.
Some of the organizations using Miradore Online include a retail chain with 195,000 employees, a European airline company and several hospitals. Launched in early 2014, Miradore Online is available directly on Miradore's website as well as through leading IT service providers.