New automated testing solution transforms service assurance levels and dramatically cuts manual testing time by 95%
London, UK – 17 October 2017 – The Met Office has boosted the reliability of its National Severe Weather Warning System (NSWWS) by deploying Testplant's Digital Automation Intelligence Suite.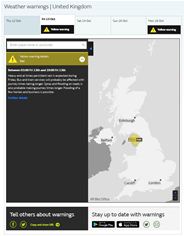 NSWWS is a mission-critical service that provides warnings to the public and emergency responders of severe or hazardous weather that has the potential to cause danger to life or widespread disruption. By deploying Testplant's solution to automate testing for NSWWS, the Met Office is radically reducing costs and time-to-market – reducing a half day of manual testing to a 10-minute operation. Testplant's solution has also delivered enhanced test accuracy and improved confidence in NSWWS through a 400% increase in regression test frequency.
"Introducing issues to NSWWS in software updates could be disastrous because it could ultimately impact lives," said Ian Gentry, Test Lead at the Met Office. "There is also the potential reputational damage that would be associated with any system errors, so we are constantly seeking to improve confidence in the system and lower corporate risk wherever possible. Regular testing is a huge part of this and partnering with Testplant gives us the heightened assurance we need as a mission-critical information provider."
"Using Testplant's Digital Automation Intelligence Suite, we can now provide assurance in a matter of minutes that there will be no impact when making changes to NSWWS," said Gentry. "It has transformed our approach to testing. Through automation, our testing is now quicker and more frequent allowing us to confidently release changes secure in the knowledge that our critical services are protected."
"We are very proud to be deploying our Digital Automation Intelligence solution at the heart of such a high profile national institution, dramatically improving time to market, coverage and reliability for NSWWS," said Dr. John Bates, CEO at Testplant. "Test automation has the ability to transform the speed and efficiency at which organisations can operate, and it's great to see the Met Office pioneering what is possible."
The project coincides with the 30-year anniversary of the Great Storm of October 1987, the most severe weather disasters in recent history. Following this, reforms to the Met Office's severe weather warning systems were instigated, leading to an increased volume of weather warnings, the NSWWS service being just one of these reforms.
---
The Met Office is the UK's National Meteorological Service, providing 24×7 world-renowned scientific excellence in weather, climate and environmental forecasts and severe weather warnings for the protection of life and property. The Met Office has been at the forefront of global weather and climate science for over 160 years www.metoffice.gov.uk.
Testplant provides user-centric, digital automation intelligence solutions that enhance the quality and performance of the digital experience. Only Testplant enables organizations to test, monitor, analyze and report on the quality and responsiveness of software applications across different interfaces, platforms, browsers, and devices, including mobile, IoT, desktop, and mainframe. Learn more at www.testplant.com.
UK PR contact: Leah Jones, The CommsCo, ljones@thecommsco.com, 07876117760.