Easy access to ready-to-use software packages from the cloud
London, 27 Aug 2015 – Matrix42 (www.matrix42.com), a top provider of software for workspace management, has announced the latest release of its new Package Manager solution. Administrators and IT managers can now optimise their software packages and use the Package Manager with up to 1,400 packages for Microsoft SCCM and the Matrix42 Client Management (Empirum) solution.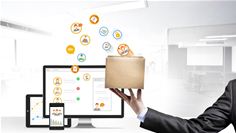 It is often time-consuming and expensive to deploy and install software packages using regu-lar manufacturer updates and the accompanying quality assurance procedure. Thanks to the Matrix42 Package Manager system, customers are now able to easily access the Matrix42 Package Cloud using a range of preconfigured software packages. All of the software pack-ages are available for Microsoft SCCM or the Matrix42 Client Management solution.
A dedicated team of experts creates these software packages and subjects them to an inten-sive quality assurance procedure before its deployment in the cloud. The new Matrix42 Package Manager enables users to download software packages quickly and easily and in-tegrate these packages into the desired Client Management solution. This decreases the number of packaging tasks and reduces costs in the IT department.
More packages with less work for administrators
Customers always have the latest software versions available with the Matrix42 Package Manager, and IT administrators can also make individual adjustments once they have down-loaded the standard packages. The Package Manager can be directly tested or used without having to be installed on the server. It supports best-practice packaging processes and therefore ensures increased standardisation and reliability when packaging the software. It also improves the internal IT department's response time to new user requests, for example, for new installations or updates.
'The Matrix42 Package Manager offers more than 20 years of Matrix42 packaging expertise from over 3,000 customer projects. The high degree of automation considerably simplifies the packaging and rollout of software for SCCM and Empirum customers, and substantially reduces costs for software rollouts,' says Oliver Bendig, CTO at Matrix42. 'Broad application knowledge is no longer necessary and complex installation processes become a thing of the past.'
Further information on the Package Manager and webcasts can be found under:
www.matrix42.com/en/products/matrix42-package-manager