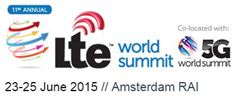 Amsterdam, The Netherlands, 2 July 2015 – The Amsterdam RAI was last week host to 2,750+ attendees as industry leaders gathered for the world's largest 4G and 5G conference and exhibition, the 11th Annual LTE World Summit. 220 unique operator companies were represented as the Summit explored the fast paced LTE evolution, which saw 107 commercial LTE launches in the past year.
The LTE World Summit provided the perfect opportunity for over 300 speakers and over 150 exhibitors to embrace the latest network technology and innovations, while also discussing the challenges that the introduction of new technologies and the opening up of frequency bands globally may bring. This year's exhibition allowed attendees to benefit from an improved hands-on experience, by interacting with the latest solutions from key names such as Huawei, Oracle, MediaTek, Samsung and ZTE.

On Day One, the main conference opened with a market update from Mark Newman, Chief Research Officer, Ovum on how LTE deployments have progressed over the last year and was then followed by a keynote presentation by Alain Maloberti, SVP of Network Architecture and Design, Orange on 4G technologies and services. Key speakers throughout both days of the event included Ying Weimin, President of Wireless Network R&D, Huawei; Yousef Abu Mutawe, CTO, Zain Jordan; Jae-yoon Park, Senior Vice President, Network Technology Unit, Korea Telecom and Giuseppe Donagemma, Vice President, Networks, Samsung Europe. The event concluded with a presentation by Takehiro Nakamura, VP & Director RAN, NTT DoCoMo which looked towards 5G deployments in 2020 and beyond.

The booming number of LTE deployments recently has triggered the GSA to increase its end of year forecast to 460 commercially launched LTE networks by the end of 2015. Many service providers are also looking to add VoLTE services to their business models, and this was another key topic area addressed at the Summit. As well as VoLTE, other topics which were placed in the spotlight included: 5G, LTE Roaming, Network Optimisation, HetNets, Signaling and LTE-Advanced. One of the challenges explored during the conference was the hot topic of finding a solution to a more efficient use of valuable spectrum, which was the focus of a presentation by UK regulator Ofcom.

The LTE World Summit also made a record number of 1,025 connections via the Executive Speed Networking sessions this year, allowing the vendor community to meet with leading operator decision makers, to establish relationships and start discussions around how their solutions can help them deliver future proof networks. The five free expo summits were also extremely popular over the course of the two days, and were dedicated to main themes including Future of LTE, Innovation Accelerator, 5G IoT, LTE Public Safety and LTE Virtualization.

A Gala Dinner also took place at the De Duif in Amsterdam during the event to announce the winners of the LTE Awards 2015. Companies recognised for their achievements and innovation in LTE and 5G included winners Huawei, Ericsson, ZTE and Korea Telecom.

Following the continuous drive in technology next year's event will be 5G World, held in London on 28-30 June and the Olympia Grand. For further information, please visit www.5gworldevent.com. Alternatively, keep up to date with the event on Twitter by following @LTEWorldSeries. For media information please contact Dana Hare at dana.hare@proactive-pr.com or Sian Borrill at sian.borrill@proactive-pr.com, or call +44 1636 812152.