Amsterdam, 25 June 2015 – The winners of the highly coveted LTE Awards 2015 were announced at a Gala Dinner last night (24 June) at the De Duif in Amsterdam. Among these were key players in the LTE and 5G industry including Huawei, ZTE, Ericsson and Korea Telecom, which were recognised for their innovation in areas such as virtualisation, heterogeneous network deployment, roaming, and 5G.
The awards ceremony took place during LTE World Summit, and the winners were chosen by an esteemed panel of expert judges, including Alan Hadden, VP, Research GSA, Dimitris Mavrakis, Principal Analyst, Ovum, Mark Newman, Chief Research Officer, Ovum, Ken Rehbehn, Principal Analyst, Yankee Group Research, and Dr Shahram G Niri. This year's awards, which are now in their sixth year, received the highest number of entries and the judges were overwhelmed with the amount of nominations at an extremely high calibre – marking 2015 as the most competitive year yet.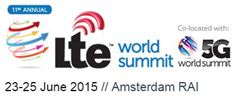 Alejandro Piñero, Head of Research, LTE World Summit, Informa Telecoms & Media, commented: "This year's LTE Awards winners are a reflection of the exciting research and development taking place all around the world. We witnessed brand new trends, products and concepts – all of which showcasing the continued efforts of the companies within the LTE and 5G ecosystems as they aim to be at the forefront of tomorrow's network deployments."
Congratulations go to the full list of winners:
Biggest Contribution to 5G Development – Huawei
Best LTE Core Network Product – F5
Best Test/Measurement Solution – Astellia
Best LTE Roaming Product – Syniverse
Best VoLTE Innovation – HKT
Most Innovative LTE Application/Service – Ericsson
Most Significant Development of a Commercial LTE Network – Korea Telecom
Best NFV Innovation of the Year – Huawei
Best Innovation in Hetereogeneous Networks – ZTE
For further information about the awards, please visit http://lteawards.com/. LTE World Summit is taking place at the RAI Amsterdam (23-25 June 2015). For more information about the event, please visit http://lteworldsummit.com/. Alternatively, keep up to date with the event on Twitter by following @LTEWorldSeries. For media information please contact Dana Hare at dana.hare@proactive-pr.com or Sian Borrill at sian.borrill@proactive-pr.com, or call +44 1636 812152.