German-based security specialist provides flexible protection for secure mobile surfing
Hamburg, Germany. 29 January 2018 – As the Middle East's equivalent of Silicon Valley, Jordan has been working hard for a long time to become a hub for information and communication technologies in the Arab region – and secure internet usage plays a key role in supporting this development. Umniah, a subsidiary of the Bahrain-based Batelco group that has 9.4 million customers in 14 countries and is one of the biggest telcos in the Middle East and North Africa, plans to become a pioneer in this respect. Umniah, as a Batelco group company based in Amman, is working with the German security specialist Secucloud to provide its business and private customers with mobile internet security. Starting in early 2018, the two companies plan to offer a cloud-based, centralised security service that gives users simple and efficient protection against smartphone malware. Once that is in place, Umniah plans to extend the service to corporate customers.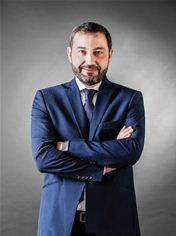 "With the Secucloud solution, we've found just the right technology to extend our service with a key component," comments Umniah's CEO, Ziad Shatara. "We're now able to offer our customers a subscription to flexible and powerful protection that is practically invisible in everyday use. They won't need to install anything on their devices or keep the system up to date. As a result, our customers can focus on their use of the net while working productively and securely with their mobile devices."
The service will be based on Secucloud's Advanced Security Suite, which protects mobile internet users from online threats like viruses, Trojans and other malware by detecting and removing them before they reach the user's smartphone. It automatically routes all internet traffic from apps, browsers and background processes through Secucloud's Elastic Cloud Security System(ECS2), where it is checked for damaging content using a combination of powerful security mechanisms, including anti-phishing, anti-malware, anti-bot, anti-hacking and anti-anonymiser tools. If the solution detects any threats, it blocks the harmful data packets automatically.
Dennis Monner, CEO of Secucloud, notes: "As part of Jordan's plans to become an information and communication technology hub in the Middle East, the human factor plays an important role. Although the country has scarce reserves of raw materials, it has a very high level of education and one of the best-qualified workforces in the region. That's why there is such a requirement for reliable internet security. Telcos like Umniah need a simple yet powerful way to protect their customers from damaging content. And that's exactly what we're going to help them provide."
---
Further information:
phronesis PR GmbH
Marcus Ehrenwirth
Kobelweg 12 1/4
D-86156 Augsburg
Tel.: +49 (0) 821 444 800
Fax: +49 (0) 821 444 80 22
Email: info@phronesis.de
Internet: www.phronesis.de
Secucloud Network GmbH
Kai Bulau
Poststrasse 6
D-20354 Hamburg
Tel.: +49 (0) 180 5 015 437
Fax: +49 (0) 180 5 015 438
E-Mail: kai.bulau@secucloud.com
Internet: http://secucloud.com/de
About Umniah
Umniah stands out in one of the region's most competitive markets as the fastest growing and most trusted telecommunications provider. Since its launch in June 2005, Umniah has demonstrated its commitment to delivering cutting-edge solutions to individuals and enterprises, relying on a forward-thinking strategy that has given the operator the agility and versatility it needs to spearhead Jordan's digital future. In addition to making a significant contribution to the growth of Jordan's ICT landscape, Umniah is also an active contributor to the local community, focusing on critical sectors and segments such as education, entrepreneurship and the youth.
About Secucloud
Secucloud is the first German-based provider of a comprehensive, completely cloud-based, enterprise-class security system for telcos and mobile phone operators. The modular Elastic Cloud Security System (ECS2) is installed directly into the carrier's network infrastructure, enabling it to protect its customers from all cyber-threats on the internet in a centralised way. Customers do not need to install any software on their devices, so no setup or maintenance is required. The Secucloud solution scales elastically and can protect more than 100 million users effectively and in real time. While customers are surfing the web, the various analysers in ECS2 scan all data traffic for malicious and damaging content. To ensure extensive protection, Secucloud combines multiple powerful security technologies, including multi-AV engines, next generation firewall, packet analysers (including deep packet inspection as well as IDS and IPS systems), global cloud intelligence, DNS layer analysers, SSL scan decision, trust & reputation analysers, APT sandbox analysers and content analysers.
Further information about the company and its solutions is available on www.secucloud.com.