Partnership to further Intershop's continued partner strategy
Special focus on potential of big data and business intelligence
Jena, Germany, Paris, France, 7 April 2016 – Intershop, the largest independent technology vendor for omni-channel commerce solutions, and Business & Decision today announced their newly formed partnership.
The combined expertise of both companies will help joint customers to realize ambitious digitalization projects throughout Europe, putting extra focus on France. By complementing its portfolio with Intershop's Commerce Suite, Business & Decision can offer its wide customer base a technology that will help them find the relevant answers to the challenges of their business, especially with respect to the potential of big data. Standardized Interfaces (APIs) of Intershop's commerce platform and the Synaptic Commerce approach facilitate easy integration with existing or new systems, e.g. for leveraging data of connecting CRM or Business Intelligence tools.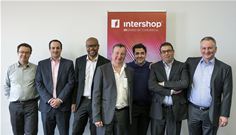 Intershop and Business & Decision partnership
Eric Magneron, Director at Business & Decision says about the partnership: "In order to provide our customers the best solutions for data management we are eager to offer them access to the most innovative technologies. Our partnership with Intershop clearly reflects that strategy. For the greatest benefit of our joint customers we dedicate strong efforts and resources to the Intershop Partner Program."
Axel Köhler, COO at Intershop comments: "Big data and e-commerce are yet to unfold their joint potential. This partnership is set to leverage just that. Of course, we are also proud to see a major player such as Business & Decision joining our partner community. It proves the attractiveness of our partner program and documents our sustainable partner strategy."
About Intershop
Intershop Communications AG (founded in Germany 1992; Prime Standard: ISH2) is the leading independent provider of omni-channel commerce solutions. Intershop offers high-performance packaged software for internet sales, complemented by all necessary services. Intershop also acts as a business process outsourcing provider, covering all aspects of online retailing up to fulfillment. Around the globe more than 300 enterprise customers, including HP, BMW, Bosch, and Deutsche Telekom run Intershop solutions. Intershop is headquartered in Jena, Germany, and has offices in the United States, Europe, Australia, and China. More information about Intershop can be found online at www.intershop.com.