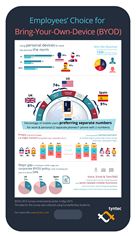 tyntec Research Finds The Use Of Personal Mobile Devices For Work Is The New Norm, But 74% Of US Workers Prefer Separate Phone Numbers For Work And Personal Use
Munich, San Francisco, July 14, 2015 – tyntec, a telecom-web convergence company, today issued the results of its international BYOD User Survey 2015 "Employees' Choice for Mobility." The findings, based on responses from Spain, the UK and US, reveal sluggish adoption of BYOD policies by organizations, while its employees voice strong privacy concerns and preference on device usage. The UK showed the smallest percentage of BYOD governance with a mere 18% of respondents claiming to have awareness of a formal policy in place. For those employees using a mobile phone for work purposes, the majority of respondents indicated a preference for separate phone numbers for work and personal usage, with Spain showing the strongest preference at 91%. Privacy and reimbursement were cited as major concerns for employees using their personal phone for work.
tyntec conducted the BYOD User Survey with SurveyMonkey collecting data of 1,320 respondents from SurveyMonkey Audience panels in the US, UK and Spain between May 16 and May 22, 2015. The respondents were preselected for their employment status as working at an organization with 500 or more employees, and completed an online survey.
The following key insights were identified by tyntec's survey:
BYOD: The New Norm Without Boundaries
The majority of employees across the US (61%), UK (43%) and Spain (69%) claim to use their personal mobile phone for work-related tasks. Oftentimes, work-related mobile usage takes place outside of office hours. Nearly all employees using mobile phones for work continue their work usage during non-business hours, with Spanish employees showing the highest tendency to do so at 95%, followed by the US (94%) and UK (89%).
Despite the considerable amount of work-related functions carried out on personal phones, there appeared to be a limited number of BYOD policies defined by employers. Only a small subset of employees claimed to have a formal BYOD policy in place, with US showing the highest percentage at 34%, compared to 18% in the UK and 25% in Spain.
Separation For the Sake of Billing and Privacy
For those employees performing about 50% of work-related tasks on a mobile phone, nearly half of respondents show a strong preference for using one device with two separate phone numbers – for work and personal – to switch between during the course of the work day. This beat out the option of carrying two separate devices (39%).
Potential drivers for separation preferences can be found by expressed concerns over reimbursement and privacy. Employees that are currently using their personal device for work are moderately to extremely concerned about having to pay for business usage on their phone bills in the US (62%), UK (54%) and Spain (69%). Additionally, employees using their personal device for work expressed concern about their employer's ability to access their private messages. In the US, 62% of workers were concerned about potential privacy issues, followed by 58% of employees in Spain and 48% in the UK.
Mobility In Practice: Employee Usage Patterns
In US workplaces, the most frequently used function on a mobile device is accessing email (37%). Whereas, in the UK (38%) and in Spain (51%) voice is the most regularly used function. Similarly, work email and office phone numbers were the most common contact information handed out by employees to external partners or customers across all surveyed countries. The UK was least likely to give their personal mobile number to external contacts, with only 12% claiming they would do so, compared to 26% in Spain and 23% in the US.
"BYOD is the new norm, and the sooner enterprises embrace sound BYOD policies and user friendly features, the sooner they can increase productivity and eliminate concerns from its employees and IT," said Thorsten Trapp, Cofounder and CTO of tyntec. "The use of virtual numbers accomplishes both sides of the BYOD puzzle. IT departments can ensure mobile governance over all communication devices and employees are granted separation. All that is required is for employees to install their corporate app enabled with virtual phone number, and simply switch to the app for work related communications."
tyntec provides the technology and infrastructure needed to power enterprise communication applications with voice- and SMS-enabled virtual phone numbers. Using this technology, enterprises are able to provide the convenience and privacy employees want while also meeting the business requirements for productivity and governance.
The survey report and infographic can be downloaded here: http://tyntec.com/resources/whitepapers.
About tyntec
tyntec (www.tyntec.com) is a telecom-web convergence company that connects the
immediacy and convenience of mobile telecom with the power of the Internet. Partnering with mobile network operators around the world, tyntec enables enterprises and Internet brands to power their applications, authentication, and mission-critical communications with universal mobile services such as SMS, voice and phone numbers in the cloud.
Founded in 2002, tyntec employs over 150 people in six offices around the globe, serving more than 500 global businesses, Internet brands and mobile network operators.