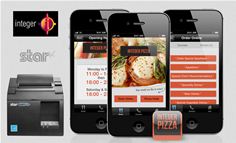 High Wycombe, UK, 27 September 2016 – At Restaurant Tech Live 2016 (27 – 28 September, ExCeL, London), Integer will be joining Star Micronics on Stand 1150 to demonstrate its inTouch order-taking, management and marketing system for fast food delivery and takeaway businesses with Star's TSP100 futurePRNT™ series.
Based on an established and successful partnership over 24 years, Star and Integer have worked on a range of projects across the hospitality sector with customers including Feng Sushi in London and La Favorita in Edinburgh. The combination of Integer's inTouch epos system with Star's renowned TSP100 futurePRNT™ series provides the hospitality sector with a reliable, high performance solution.

As a touch screen epos system for fast food delivery, takeaway and table service, inTouch provides a range of features encompassing caller recognition, post code look-up, fast touch screen ordering, delivery driver management, extensive customer marketing including targeted text messaging and integrated on-line ordering.

The system also provides extensive analysis of the business. This includes analysis of the delivery area by postcode sector by splitting the delivery area down by postcode to identify the quantity, value and percentage of orders that come from each sector, thus allowing informed decisions to be made about targeted marketing.

The TSP100 futurePRNT series from Star provides a number of free-of-charge software tools that work independently of POS software including a digital receipt service with AllReceipts™ customer App. This service offers a fast route to providing the customer with a digital copy of a print receipt as well as access to analytics, an in-store customer survey and device management tools that provide the real-time status of printers across the entire estate. Triggered by a traditional printed receipt, a digital copy of the receipt is sent to the AllReceipts App on the customer's mobile with no email address or mobile number required. Receipts can only be claimed once and are then deleted, while saved receipts can be viewed by date or by operator with personal or business tags on the customer's device.

The beauty of this service is the ability to take advantage of the reverse side of digital receipts, as on printed receipts, using the Receipt Flip feature to display terms and conditions, store policies, promotions, marketing material, etc. An additional tool allows the operator to provide links to promotions, discounts, coupons, etc. on the Engage NOW landing page. Customers using the AllReceipts App can simply tap on the operator's logo from the list of receipts on their smartphone and be directed to a URL that the operator specifies. Engage NOW is secure and easily customizable, providing a highly personal customer connection. For the hospitality sector, this service provides the potential to increase sales given that customers can readily access coupons and take advantage of relevant discounts.

As Geoffrey Whittle, Managing Partner of Integer, says, "We have supplied Star printers for a quarter of a century and the continuing development, reliability and resilience that they bring to our partnership allows us to concentrate on developing, supplying and supporting our inTouch software and integrated on-line ordering platform".

As Annette Tarlton, Marketing Director, Star Micronics EMEA, states: "Our established partnership with Integer provides the hospitality sector with mPOS solutions that offer a powerful range of features and tools to allow the fast food delivery and takeaway sectors to effectively market to customers."

Background Information on Integer
Integer has been developing, supplying and supporting epos software since 1986 and are the longest established epos supplier to the UK fast food delivery and takeaway sector. Fully integrated on-line ordering has grown from a standing start in 2007 to be a major part of the business. InTouch software is available from re-sellers or from Integer direct.www.integeruk.com

Background Information on Star Micronics
Founded in 1947, Star Micronics is one of the world's largest printer manufacturers and has facilities for worldwide production, marketing and support. Employing over 1900 staff and achieving turnover in excess of £250 million, Star Micronics has developed a POS printer portfolio that spans thermal and dot matrix printers and mechanisms, designed for barcode, ticketing, receipts and labelling. Star's proven technology is also being utilised to install print mechanisms in multimedia kiosk environments. The Star Micronics' range is available internationally via a distribution channel comprising distributors and dealers.