Toolhireclub.com an industry first for a Motor Factor Group
READING, United Kingdom – Monday 27th April 2015 – Innoverne, the Circular Commerce specialists, today announced a major national tool hire programme and website development for The Parts Alliance.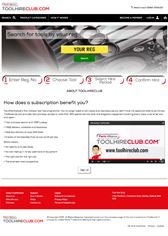 Toolhireclub.com Homepage screenshot
Toolhireclub.com is the first tool hire programme launched by a Motor Factor group. The programme provides independent garages and workshops fast, easy and secure access to more than 300 special service tools and equipment covering every major area of service and repair. Standard delivery is as quick as next business day on tools ordered before 4:00pm the previous day.
Toolhireclub's easy to use website offers three levels of annual subscription – Gold, Silver and Bronze. Hire prices are determined by membership level and the respective capital cost of the tool. With a Gold subscription, rental for tools and equipment worth less than £50 is free.
Paul Dineen, head of The Parts Alliance's Servicesure Autocentres garage programme, said: "We are really excited about our national tool hire programme and the significant benefits it can bring to the Aftermarket. It's about speed, convenience and being able to access specialist tools without the traditional costs of ownership. The commercial proposition is hugely attractive, given that tools can be hired for low prices that otherwise would cost thousands of pounds to buy."
Founder and CEO of Innoverne Julian Thomas, said: "The Parts Alliance is the first Motor Factor group to truly understand that the future lies in being able to 'access' tools as opposed to only owning them. Their response is smart and price competitive and will add tremendous value to independent garages and workshops who can't possibly afford to buy all the tools and equipment they need to service their customers."
A subscription to Toolhireclub starts from as little as £2 a day. By using Toolhireclub.com members can search for the right tools by VRM look-up, vehicle make, model, OEM part number, engine code or type of work. Both the delivery and collection of tools is free, with insurance premiums also included in the rental pricing.
Innoverne runs the entire Toolhireclub programme on behalf of The Parts Alliance. Innoverne has developed and hosts the Toolhireclub.com website, and will manage customer accounts and subscriptions, tool inventory and storage, security and tracking, packaging, forward & reverse logistics, contact centre support and billing.
Underpinned by Innoverne's Circular Commerce platform, Toolhireclub.com's simplicity belies a suite of class-leading technologies and business processes provided by Innoverne. Innoverne's platform supports hire, collaborative commerce or product-as-a-service propositions. The Parts Alliance's Toolhireclub programme incorporates:
Customer and Subscription Management
Real Time Tool Availability and Order Management
Asset and Inventory Management
Product Information Management and Bill of Materials (BOM)
Order & Returns Management
Asset Security and Tracking
Omni-Channel Commerce
Payment, incl Insurance and Refundable Policy Excess
Outbound and Return Logistics
Contact Centre and Customer Service
Backed by HgCapital, the mid-market private equity investor, The Parts Alliance is the UK and Ireland's largest group of wholly owned and franchised businesses supplying OE and quality auto parts to national and local independent garages and workshops.
For more information visit Innoverne.com, or connect with us on Twitter. Innoverne is privately held with its corporate headquarters in Reading, England.