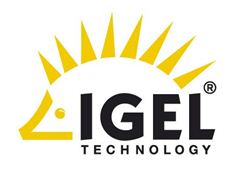 Powerful combination will drive growth in thin client and workspace management solutions
Reading, UK. October 13, 2016 – IGEL Technology, a world leader in the delivery of powerful workspace management software, IGEL OS powered thin clients, zero clients and all-in-one client solutions, has appointed DataSolutions as its distribution partner to grow its business in Ireland.

The IGEL range of simple and secure workspace solutions fits perfectly with DataSolutions expertise in the Citrix and wider virtualisation market and its strong network of value added resellers.

"The knowledge that DataSolutions has of the Irish market, our technology sector and its complementary range of virtualisation, cloud, security and application vendors makes it the perfect partner for IGEL to continue to grow its business in Ireland," said Simon Richards, Managing Director for UK & Ireland at IGEL Technology.

Working with IGEL made perfect sense to Michael O'Hara, Group Managing Director at DataSolutions. He said: "As Europe's largest, dedicated thin client company, IGEL is leading the market in offering thin, zero and software clients for desktops, alongside simple to use and intuitive workspace management software that takes the pain out of administrating a distributed desktop environment. Whether its converting existing PCs and thin clients into IGEL-like devices for use in new virtualised environments, managing multiple desktops with a single workspace management tool or deploying thin clients to handle multimedia and unified communication services, IGEL has a simple and secure solution."

IGEL's range of open zero and thin clients, based on Linux and Microsoft Windows, allows customers to access a broad spectrum of server-based infrastructures and applications without being tied to a single technology provider. Its Universal Desktop Converter software allows customers to quickly migrate existing PC or old thin client hardware to a fully manageable IGEL thin client-like device. IGEL's entire family of thin and zero clients can be managed via the industry-leading IGEL Universal Management Suite (UMS), which is designed to help IT organisations more efficiently and cost-effectively run their workspace environments remotely.

DataSolutions is an award-winning, specialist IT distributor that is expert in security, next generation data technology and unified communications. Since 1991, the company has built a nationwide network of leading technology resellers giving immediate access to a salesforce of over 600 enterprise sales specialists. DataSolutions' in-house team of technical, business and marketing specialists then provide hands-on support to help drive sales and maintain quality with intensive product briefings, technical training and well promoted marketing events.

For more information about IGEL visit www.igel.co.uk

About IGEL
IGEL delivers powerful endpoint management software that is revolutionary in its simplicity and purpose-built for the enterprise. The company's world-leading products, including the IGEL Universal Management Suite, IGEL OS™-powered thin and zero clients, and all-in-one thin client solutions, deliver a smart and secure endpoint management experience that shifts granular control of thin and zero client devices from the end user to IT. This enables enterprises to remotely control all thin client devices from a single dashboard interface. With IGEL, IT teams can do more with less, lower their total cost of ownership and operation, and future-proof their organisation. IGEL has 10 offices worldwide and is represented by partners in over 50 countries. For more information on IGEL, visit www.igel.com/us.