London 2nd August 2017. Cobe, provider of Service-Centric Intelligence for microservices, today announced a new customer – Hyperneph. Cobe will support this boutique Cloud service provider as they continue to guarantee their online business customers a 100% SLA.
Whilst most hosting companies offer a 99% SLA, Hyperneph offer their online business customers; for whom downtime would result in lost customers, decreased revenue and/or would negatively impact reputation; a guarantee that their network AND application will be available 100% of the time.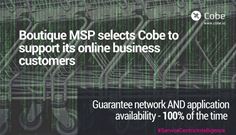 Ben Morris, CEO of Hyperneph states "As your online business grows, your app will get busier and if it isn't built and maintained properly then it will fall over. The consequence of that outage is that your business and your reputation will be damaged." he continues "Typically when you develop a piece of software, what you end up building may be functional when used by a few users, but it may not scale well and this leads to availability problems. We need to be able to visualize our client's applications from a coding point of view in order to understand how it is configured and be able to assess any impact before things go wrong"
Hyperneph were early adopters of Kubernetes but recognised that additional tools were required to make sense of how hundreds (or thousands!) of microservices were interacting to ensure 100% availability of the business services that their customers were running.
"With Cobe we can quickly see the data that matters, without getting blinded by lots of detail. We no longer need to dive down and start using command line tools that bombard you with huge amounts of information. We can get straight to the root cause and can understand the overall impact on the service. If customers are still able to access the site then we can prioritise accordingly and continue focusing on issues, or potential issues, that would result in downtime", says Morris.
Using Cobe Service-Centric Intelligence, Hyperneph are able to make sense of which microservices collectively make up their customer's business service. By creating a business centric view of how those services are configured, Hyperneph are able to understand all of the associated interdependencies which enables them to deliver upon their SLA guarantee.
"We are delighted that Hyperneph has selected Cobe to help them to offer a truly differentiated service offering" stated Iain Lambert, CEO of Cobe. "In the highly competitive MSP marketplace, it is essential to have the right tools in place to deliver upon your SLA commitments. Cobe enables enterprises and MSP's alike to focus on what matters – the availability of their business services – without being distracted by the noise from the underlying infrastructure."
ABOUT HYPERNEPH
Scalability and security for your Cloud Enabled Business. At Hyperneph we really understand the internet. Not just a little bit here and a little bit there – but really from one end to the other. We also really understand development, not only HTML or ASP.NET but Ruby, PHP, Java (and the scripty one), Python, C++, Aida, Pascal and COBOL (to name just a few). So – when we take your application – your new, wonderful child, that's going to change the world around us, we make sure that it works not just for a few users, but for as many users as you want to throw at it. Sometimes we have to break it apart and rebuild it – but that just makes it stronger and ready to cope. Let Hyperneph ensure your app runs and runs and runs.
ABOUT COBE
Cobe technology delivers service-centric intelligence into your microservices environments to visualize application's topology, identify interdependencies and restore service faster. Learn more at cobe.io.
Media contact for Cobe
Donna Cooper
donna@cobe.io
+44 (0)1525 40 40 70