HUBER+SUHNER, leading international manufacturer of components and systems for optical and electrical connectivity products, has today launched its innovative Omni-S MIMO 4×4 antenna at the InnoTrans exhibition in Berlin.
The new omni-directional SENCITY® Omni-S MIMO 4×4 antenna features four ports and can be used as a 4×4 WiFi MIMO multi-port antenna. It was especially designed to install Internet in trains.

"We're very excited to showcase our latest antenna for the first time at this year's InnoTrans," said Bernd Heidtmann, Product Manager RF at HUBER+SUHNER. "Its extremely rugged design and ability to cater for 4×4 WiFi makes the SENCITY® Omni-S MIMO 4×4 the perfect solution for mass transit. We are looking forward to meeting those who can benefit from this technology at the show."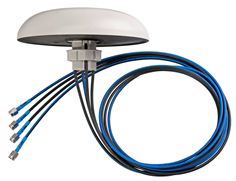 HUBER+SUHNER made a conscious effort to produce a flat and unobtrusive antenna – a design which prevents damage and vandalism. The antenna meets the stringent rolling stock standards EN 50155 and EN 45545-2, covering an exceptionally wide range of application needs.
Due to a single-hole mount design, the installation of the antenna on site is straightforward.
Exhibition visitors can see the HUBER+SUHNER SENCITY® Omni-S MIMO 4×4 along with a variety of other technologies for rail in Hall 2.2 at InnoTrans 2016, Berlin, 20-23 September, at a joint stand (207) with SWISSRAIL.
HUBER+SUHNER Group
HUBER+SUHNER is a global company with headquarters in Switzerland that develops and manufactures components and system solutions for electrical and optical connectivity. With cables, connectors and systems – developed from the three core technologies of radio frequency, fiber optics and low frequency – the company serves customers in the communication, transportation and industrial sectors. The products deliver high performance, quality, reliability and long life – even under harsh environment conditions. Our global production network, combined with group companies and agencies in over 60 countries, puts HUBER+SUHNER close to its customers. Further information on the company can be found at hubersuhner.com.