The CUBO mini is essential for 100G applications
Herisau, 7 March 2018 – Leading manufacturer of fiber-optic systems and components, HUBER+SUHNER Cube Optics, has launched its new Optical Demarcation Device (ODD), the CUBO mini 100G ODD.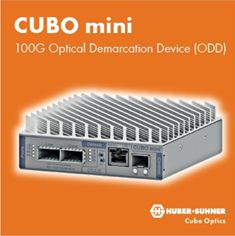 Specifically designed to solve a host of challenges, with emphasis on ease of use, the ODD is the first of its kind to take complete advantage of the wide variety of 100G QSFP28 transceivers, covering distances of up to 25km.
"The latest edition to the Cube Optics product family, the CUBO mini, has been developed to for example make 100G access applications for our customers affordable and as simple as possible," said Sven Krueger, VP of Product Management and Sales at HUBER+SUHNER Cube Optics. "We are very excited about the launch as it once again showcases our ability for research and development, and our passion for providing customers with smart solutions. The CUBO mini combines intelligent technology and an intuitive user interface into a compact device making it a powerful new product."
The CUBO mini provides a low latency, layer 1 "conversion" between the two QSFP28 ports.
This not only makes the setup simple "plug & play" but also enables full transparency of all higher levels as well as OTU4. A powerful management system of the CUBO mini for remote monitoring and control can be accessed either via the RJ45 connection or SFP port on the front of the module. The CUBO mini packs a punch, particularly for its stature, measuring in at only 12 x 12 cm and just over 500 grams.
"The CUBO mini was created to make our customer's lives simpler. By clearly labelling all operational aspects of the device and having multiple LEDs dynamically indicating its relevant states, the CUBO mini can be considered an essential component across various 100G applications."
For more information on the CUBO mini and other HUBER+SUHNER Cube Optics solutions visit: www.cubeoptics.com
---
HUBER+SUHNER Cube Optics AG
HUBER+SUHNER Cube Optics AG (Cubo) has a decade long track record of excellence and market leadership in CWDM/DWDM passive optical transport systems and optical components, based on its patented "Color Cube" technology that breaks the size limitation and flexible barriers faced by other wave division multiplexing technologies. Located in Mainz Germany and since October 2014 part of the HUBER+SUHNER Group, Cube Optics has over 40,000 successful network nodes in operation worldwide. Using its stacking cube approach to add features when required, Cube Optics customers have the advantage of cost effectiveness combined with high quality, precision and reliability. Over the last several years, Cube Optics has extended its leadership in optical components with market leading 100Gbps core technology that is being integrated by major transceiver and equipment suppliers. For further info browse our website www.cubeoptics.com.
Media Contacts:
Rebecca Peel
Proactive PR
Tel: +44 1636 704888
rebecca.peel@proactive-pr.com
Roland Spahn
Marketing and Communications
HUBER+SUHNER Cube Optics
roland.spahn@hubersuhner.com