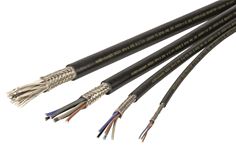 HUBER+SUHNER has completed its RADOX® MFH-S cable family with cross-sections of up to 6mm2. These cables are suitable for installation on ships and on oil and gas platforms. Their special product features make them unique on the market.
Through its extended RADOX® MFH-S cable portfolio, HUBER+SUHNER meets the challenging demands for products both on ships and on oil and gas platforms. Unlike rival products, the cables can transmit both signals and energy. Through cross-sections of up to 6 mm2 and more than 70 design versions HUBER+SUHNER covers a wide range of applications: from data transmission in control systems to cabinets and energy transmission in lighting systems or ships' diesel engines.
More robust, more flexible and thinner than rival products
Compared to other products on the market, the cables are thinner and more robust and flexible. RADOX® MFH-S cables are up to three times thinner and therefore much lighter than rival products. In addition, they are approved for use in temperatures from -50 to +90 °C, although they have also proven to function correctly for 20,000 hours in temperatures of up to 120 °C. The cables also feature particularly high abrasion and vibration resistance and a very small bending radius. A motion test in the HUBER+SUHNER in-house test centre has confirmed the flexibility and resistance of the cables after more than one million bending cycles. Therefore, the entire RADOX® MFH-S product family can also be used in moving applications, for example in cranes or drilling rigs. With these features the cables are currently unique on the market.
Particularly resistant in harsh environmental conditions
RADOX® MFH-S cables are particularly resistant to mud, diesel, oil, ozone, hydrolysis and the effects of the weather. That makes them particularly good for use in the harsh environmental conditions which prevail on oil and gas platforms. Their robust design means that they can be used both for indoor and outdoor installations. They are flame-retardant and meet the fire safety requirements according to IEC and EN 45545. Therefore, they can be used in ex zones 0, 1 and 2, and in safety zones. The entire product family is certified to Det Norske Veritas (DNV), NEK 606 and Germanischer Lloyd.
CAT5e Ethernet cable with DNV approval
In addition to the RADOX® MFH-S product family, the CAT5e Ethernet cable has also been revised and approved to DNV standards. The RADOX® Marine CAT5e 2x(2×0.5mm²) and CAT5e 4x(2×0.5mm²) have the same sheath material as the RADOX® MFH-S cable. As a result, they are also resistant to oil, mud and heat (120 °C / 20,000 hours). This, in turn, makes them another interesting product for use in ships' diesel engines and on oil and gas platforms.
HUBER+SUHNER Group
HUBER+SUHNER is a global company with headquarters in Switzerland that develops and manufactures components and system solutions for electrical and optical connectivity. With cables, connectors and systems – developed from the three core technologies of radio frequency, fiber optics and low frequency – the company serves customers in the communication, transportation and industrial sectors. The products deliver high performance, quality, reliability and long life – even under harsh environment conditions. Our global production network, combined with group companies and agencies in over 60 countries, puts HUBER+SUHNER close to its customers. Further information on the company can be found athubersuhner.com.