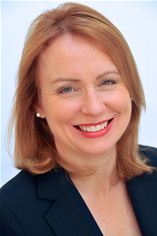 Dublin, Ireland – Tuesday 11th October, 2016 – Clíona Kimber has been appointed as Senior Counsel at a ceremony in the Supreme Court of Ireland this month. Clíona is one of only three women out of the recent 22 Senior Counsel appointments to reach this distinguished position. Her recognised expertise in employment law, equality and cyberlaw will now be available to those taking more complex cases at a higher and appeal level in Ireland and before the Court of Justice of the European Communities and the European Court of Human Rights in Strasbourg.
Speaking about the challenges arising in employment law Clíona said, "Monitoring and managing employees' rights to privacy while protecting a company's reputation from online posts rises as one of the single biggest issues today. It's important to continue to use the awesome power of the Internet so employees can feel empowered and productive, while also being mindful of the legal difficulties."

Ms. Kimber is also acutely aware of the time bomb for employers and workers posed by the need to fund employee pensions and the need to end mandatory retirement ages. She is one of the leading experts on employment and equality law, having co-authored the authoritative legal text Employment Equality Law, which has recently been cited by the Supreme Court of Ireland. Ms. Kimber also recently co-authored a book entitled "

Cyber Law and Employment

" published by Thomson Reuters which addresses the difficulties that new online tools such as social media, blogging, and the Internet are bringing to the workplace and the challenging task that traditional laws in Ireland have in keeping up with the new digital advances.

A graduate and former lecturer of Trinity College Dublin, Ms. Kimber will host a reception on 12th October, 2016 in Trinity College to publicly commence her appointment. She will also be speaking on Managing and Monitoring Employees in Cyberspace at the Employment Bar Association conference on the 21st October 2016.

About Cliona Kimber
Cliona Kimber spent 15 years as a specialist barrister and litigator in employment and equality law before becoming Senior Counsel in 2016. She published a number of books including Sex Equality Law (2000), Employment Equality Law (2014) and Disability Discrimination Law (1993). Prior to this, Ms. Kimber was editor of the Irish Employment Law Journal for 10 years and of the Employment Law Reports. She is also on the Committee of the Employment Bar Association of Ireland. She was a lecturer at the Faculty of Law at University of Aberdeen for a number of years prior to commencing legal practice in Ireland. She lectures to students and professionals on an ongoing basis and has lectured at Trinity College Dublin, University College Dublin, Kings Inns Dublin, and Law Society of Ireland. She has presented at expert legal and professional conferences worldwide, including the University of Maryland, USA, University of London and University of Lyon, France. She has published extensively on employment and equality law. Ms. Kimber is a renowned motivational and inspirational speaker on the topic of workplace issues working with leaders and employees, helping to solve legal disputes and educate enterprises about business and the law. She is available to talk on the topic of cyber law.