Key Role Created to Assist UK Data Centres to Reduce CapEx & OPEX and Fund Digital Transformation.
RICHMOND, UK, 08 February 2018 – Curvature, the world's largest provider of third-party maintenance and multi-vendor network and data centre IT lifecycle services, has announced the appointment of seasoned IT sales professional, Christo Conidaris, to the position of Vice President of Sales, UK. Christo joins Curvature from storage vendor, Quantum, where he successfully ran Northern Europe & Africa end user and channel sales operations for four years.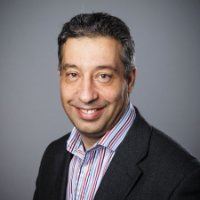 With a career that spans 31 years, Christo is a well-recognised figure in the UK IT industry having helped many FTSE 500 companies achieve and exceed their IT objectives. This Christo has accomplished largely through the creation, and successful hands-on management, of highly performant end user sales teams that also leads into increased channel engagements. His decision to join Curvature signals recognition of the increasingly significant role that Third Party Maintenance (TPM) providers are now taking in the procurement process within data centres across the UK. Christo notes:
"Joining Curvature represents a fabulous opportunity. Coming from a hardware vendor, one issue that has started to resonate strongly is that end users are now actively seeking solutions to afford immediate savings from their existing IT budget. They are using these savings to drive and fund digital transformation. Gone are the days of manufacturer-fuelled rip and replace hardware cycles. Today, it's about intelligently delivering ROI that offers increased productivity to the business. I'm therefore excited to join Curvature to substantiate how users can afford new technologies and greatly surpass their existing service levels with unbiased, vendor-agnostic services that cut costs, and fast."
Indeed, to echo Christo's decision to join world leading TPM, Curvature, it does feel like a pivotal time for TPM adoption. Last year marked the strongest indication yet of an intelligent change in buying behaviours from IT procurement creating a dedicated category for Third Party Maintenance. In August, Gartner issued it's first-ever, Market Guide for Data Centre and Network Third-Party Hardware Maintenance,[1] where it estimated there are more than 10 million data centre/network devices that fall under TPM, with 71% of very-large enterprise customers actively leveraging a TPM for support of some devices in 2016.
Curvature's TPM model actively encompasses channel partners too and channel engagement is an area that Christo will actively foster in his first months. Traditional hardware resellers in the UK face dwindling margins and partnering with Curvature into their own install base can help increase both profitability and service levels. With the ability to demonstrate ROI, resellers find customer loyalty and retention increases. Service levels stretch further with stringent testing on hardware before dispatch, alongside reduced stocking times from up to 12 weeks to 24 hours, all delivered from the largest independent IT solutions provider in the market.
You can follow Christo's first months at Curvature by following his LinkedIn channel.
[1] Gartner, "Market Guide for Data Centre and Network Third-Party Hardware Maintenance," Christine Tenneson, August 9, 2017, [ID G00327263].
Gartner does not endorse any vendor, product or service depicted in its research publications, and does not advise technology users to select only those vendors with the highest ratings or other designation. Gartner research publications consist of the opinions of Gartner's research organization and should not be construed as statements of fact. Gartner disclaims all warranties, expressed or implied, with respect to this research, including any warranties of merchantability or fitness for a particular purpose.
---
About Curvature
As the global leader in independent IT support, products and services, Curvature is transforming how companies manage, maintain and upgrade equipment and support for multi-vendor, multinational networks and data centres. At a time of competing IT priorities and digital transformations, companies need to be nimble, efficient and smart in how they invest in IT and business innovation. A strategic partner with more than 15,000 organisations globally, Curvature specializes in delivering 24×7 global technical support, advanced hardware replacement, and complete lifecycle management of networking and data centre equipment under one global contract from locations in the Americas, Europe and Asia. For more information, please visit www.curvature.com.
Company Contact
83-84 George Street Richmond-upon-Thames TW9 1HE
Andrea Arnold, T: +44 208 614 7900, aarnold@curvature.com
UK Press Contact
KPR Global,
Sharon Munday -T: +44- (0)23 9311 4100, smunday@kprglobal.com
EMEA Press Contact
KPR Global,
Michael Baumann –T: 49 (0) 821 343 0016, mbaumann@kprglobal.com