Understand business impact, identify interdependencies and restore service faster
London, UK – 5th June 2017 Today Cobe, leading provider of service-centric intelligence for microservices, announces the general availability of its Cloud hosted SaaS platform that delivers a service-centric visualization of business applications running in a microservices environment.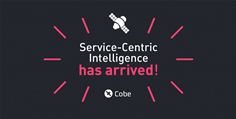 By providing contextual insights for DevOps through visualization of an application's topology, interdependencies and associated performance metrics, the Cobe platform delivers improved diagnostics and the ability to restore service faster.
"Organisations are increasingly looking to run microservices in containers as part of their digital transformation strategies," said Iain Lambert, CEO, Cobe.io. "However, as you develop new apps or migrate monolithic apps to a microservices architecture, you are adding a wealth of complexity and introducing additional dependencies. Cobe provides contextual insights for DevOps and agile development teams to understand the interdependencies between their business services, and the associated containers and hosts."
Cobe is a Cloud hosted SaaS platform that requires little setup. It has been specifically designed for microservices and containers. As a new microservice is created, the Cobe solution automatically tracks and dynamically builds it into the model in real time.
"When running Docker containers in a Kubernetes cluster, Cobe provides you with a detailed view into the resource usage and the various performance characteristics of your running containers," continued Lambert. "The Cobe platform captures, in real time, dependencies and performance metrics from containers – and any non-containerized entities that make up part of your business service – as they run and as they expand out."
Cobe is now generally available and you can get started in as little as 10 minutes with minimal effort. A free trial is available from the Cobe.io website.
About Cobe
Cobe technology delivers service-centric intelligence into your microservices environments to visualize application's topology, identify interdependencies and restore service faster. Learn more at cobe.io.