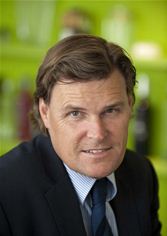 Niall Wall joins the board of Europe's leading IT specialist distributor
London, 15th December 2016: CMS Distribution, Europe's leading IT specialist distributor, today announced the appointment of Niall Wall as Non-Executive Director.

Niall brings with him a wealth of leadership experience from various CEO positions held at Ardagh Group, Sterile Waste Group and Tipperary Crystal. He recently retired from his position as Group Chief Executive at Ardagh, one of Ireland's largest companies, operating in 26 countries with €8bn revenue. Wall remains a major shareholder at Ardagh Group and will join as Non-Executive Director at CMS Distribution's parent company, Storit Limited.

"I am delighted to join the board as I believe CMS Distribution is at a very exciting stage of its evolution in a very, very exciting industry" said Wall.

Frank Salmon, CEO of CMS Distribution commented: "I am very excited to end the year with the appointment of Niall Wall, another highlight for 2016. This has been a fantastic year for CMS Distribution, we have completed our 3rd acquisition and integration, expanded into Benelux and Scandinavia and are now excited to have Niall on the board of Storit to support us with our ambitious growth plans."

About CMS Distribution
Established in 1988, CMS Distribution is a leading specialist distributor supplying business and consumer technologies.

The company is strictly trade only, selling to B2B and B2C partners, servicing corporate resellers, managed service providers, high street and online retailers. These range from large multi-nationals to smaller, independent IT companies.

CMS Distribution helps IT vendors and channel partners grow their business, by taking emerging technologies to market whilst developing established brands using a range of value added services.

The company employs over 250 people across seven locations in the UK, Ireland, the Netherlands and Sweden. For further information on CMS Distribution please visit www.cmsdistribution.com.