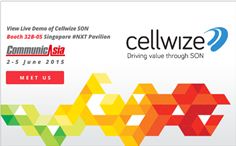 As network providers look to deploy SON, Cellwize will be meeting operators in conferences across Asia, Europe and Latin America
Singapore – May 19th 2015 – Cellwize, the innovative Self-Optimizing Network (SON) solutions provider, announced today that it will be exhibiting at CommunicAsia (NXT Pavilion booth 32B-05). The company will showcase its SON solutions, including Value-Driven SON® which can provide operators with new monetization opportunities by placing the end-customer at the heart of the network optimization.
Operators can also find out how Value-Driven SON® provides new opportunities by delivering better performance on LTE, 3G and 2G across the Radio Access Network (RAN) for enhanced quality of experience. Cellwize SON's cross-technology and multi-vendor capabilities have an impressive track record and are deployed by the world's largest mobile operators.
Cellwize has been expanding its footprint in Asia as Mobile Network Operators in the region have turned to SON to strengthen their LTE deployments and boost network agility. The company is putting strategic emphasis on the APAC region including recent hires and appointing Olivier Guibert as its new General Manager.
Guibert comments: "Integrating LTE into existing networks while maintaining robust 3G and 2G coverage has been a struggle for many operators in APAC, as well as in other regions. Faced with this, operators have been turning to Cellwize for its innovative solutions. We are looking forward to meeting operators during CommunicAsia and working together on addressing their business and network challenges by implementing Cellwize's field-proven solutions."
Cellwize will also be attending the following events:
May 27 – 28, Andean Telco Forum, Columbia
June 2 – 5, CommunicAsia, Singapore
June 23 – 25, LTE World Summit, Amsterdam
To arrange a meeting at any of the following events, please email: info@cellwize.com
ADDITIONAL INFORMATION
ABOUT CELLWIZE
Cellwize develops and delivers innovative SON solutions across vendors and wireless technologies. elastic-SON® transforms rigid, physical networks into adaptive and responsive "organisms" that continuously match capacity, coverage and quality with evolving usage patterns. elastic-SON® complimented with SON-as-a-Service realizes its promise with multiple MNOs across Europe, APAC and LATAM. Elastic self-organized networks become responsive and efficient calling for a shift from network productivity gains to user value maximization. We call it Value-Driven SON®.
Founded by industry experts, Cellwize launched its commercial SON platform in 2012.