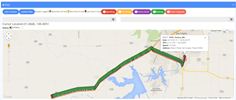 Billion Electric, one of the largest cellular CPE providers for business, industry and M2M solutions in the Asia-Pacific Rim, will debut BEC LTE Remote Management System (LRMS) cloud-based platform designed to remotely manage Billion's M2M LTE routers, Fixed LTE routers, VoIP gateways, LTE outdoor units, and muliti-service gateways during Computex 2015, Taipei from June 2nd – 4th.  With the centralized management tools, BEC LRMS minimizes service deployment and maintenance expenses, at the same time maximizes the operational productivity and profitability of fleet management and telematics.
Graphic displaying shows the real-time network measurement to assist fleet owners in monitoring geographically-dispersed fleets, as well as tracking fleet status. Integrated the above functionality into the newly launched industrial-grade LTE M2M router – M1000, BEC LRMS combines the GNSS (Global Navigation Satellite System), OBD (On-Board Diagnostic) and IP Camera to detect slowing and stopping motions, as well as fatigue driving so controllers can remotely pause the over-speed vehicles, protect driver safety, and record UBI (Usage Base Insurance) data. With the access to private fleet management data on the server, service providers can store and manage fleet activities specific for their broadband service, offering imperative reliability and mobility.
Aside from fleet management applications, LRMS features end user's LAN settings when operators are addressing security configuration. From LTE signal quality measurements (RSSI, RSRP, RSRQ and SINR), network status/APN, location ID to Cell ID, service providers can remotely configure the LAN settings such as IP address, DHCP address, DNS server on the cloud-based server. With the provided diagnostic features, BEC LRMS retrieves the status of individual devices, display current LTE RF signal conditions and help to determine the overall performance and quality of the connected devices. Operators can easily monitor LTE bandwidth utilization using the device MAC address that shows the uplink and downlink traffic consumption in hourly, daily, monthly for CPE devices. Real-time connection data reports the quality of service so technical support staff can quickly perform IP ping tests and reboot the subscriber's CPE for troubleshooting purposes.
"LRMS serves as a critical troubleshooting link notifying remote sites, sub-stations, and branch offices in the event where primary connectivity is down. Incorporating with a GNSS installed 3G/4G LTE router, the capability of LRMS can be diversified to offer system monitoring service for public safety vehicles, emergency responders, and fleet management. The advantage of Billion is that our technology is widely open for separated integrations on hardware and software, or two collaborated into a total solution," says Jesse Lin, General Manager of BEC Technologies, Billion's subsidiary in USA. "Our technical support team has been successfully implementing this cloud-based software in setting up a Teamviewer™ station on- site to optimize the efficiency of system maintenance and thereby provides valued-added monitoring service to our customers".
About Billion Electric
Billion Electric Co., Ltd. (www.billion.com, taiex: 3027, trading as Billion) is an Asian Pacific-based company with expertise in the manufacturing of  Fiber, xDSL, Cable, 3G, and 4G LTE broadband internet routers and gateways for home, SoHo, and telecommuters. Via capability of Research & Development equipped with network experts in laboratories, Billion Electric is determined to pursue the leading-edge position of the industrial vanguard and to provide its current and future customers with the highest quality of network communication equipment. Please visit www.billion.com and join our annual "Sparkling Innovation" Webinar billion.typeform.com/to/hrUMl3 to learn the latest M2M information.