Aachen, Germany, December 19, 2017 – Aspera, worldwide provider of Software Asset Management solutions and services, has donated € 14,000 to the Practical Action project "Healthy Schools in Apurimac" in Peru. The project aims to improve student achievements at eight primary schools in the Apurimac region of Peru, through access to energy services, clean water, adequate sanitation and information technology.
"The project in the Apurimac region brings change to communities that are isolated from fundamental advantages of modern education," said Olaf Diehl, managing director of Aspera. "We are happy to support the work of Practical Action which is based on innovative thinking and technical knowledge. For this reason, we are donating this year on behalf of our customers."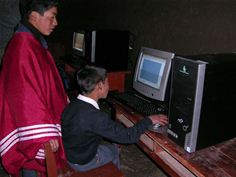 "I recently visited Peru and met a boy, high in the Andes, who now has electricity in his school thanks to Practical Action," said Rachel Hudson, Fundraising, Marketing and Communications Director at Practical Action. "As a result he can study the national curriculum on the internet. `We feel connected to the world,' he said to me. We are delighted that Aspera has chosen to support this life-changing project."
Connecting schools to the internet can be transformational, enabling teachers working in these rural areas to take advantage of technological resources developed by the Ministry of Education through the digital PeruEduca system. Nearly 1,625 students, families and teachers will benefit from using the information and communication technology systems (ICTs) provided by Practical Action, connecting them with the rest of the world.
Practical Action is an international non-governmental organization that uses technology to challenge poverty in developing countries. They work in four regions of the developing world – Latin America, East Africa, Southern Africa and South Asia, with particular concentration on Peru, Bolivia, Kenya, Sudan, Zimbabwe, Bangladesh and Nepal.
For more information, please visit the website: https://practicalaction.org/healthy-schools
---
About Aspera
At Aspera, we simplify the complexity of your software licenses. For nearly two decades, we have helped hundreds of enterprises and over 50 Fortune 500s to assess cost and risk within their IT environments. Our solutions for Software Asset Management track all the big vendors, such as IBM, Microsoft, Oracle and SAP to cover every environment from servers and desktops to cloud and mobile. With the largest in-house consultant and service team in the industry, we provide the best strategy for data discovery, easy system integration, and a cost-effective way to purchase, use and optimize licenses.
Aspera is part of USU Software AG (ISIN DE 000A0BVU28), which is listed in the Prime Standard segment of the Frankfurt Stock Exchange.
For more information, please visit www.aspera.com.
Contact
Aspera GmbH
Heike Lorey
International Public Relations
Tel.: +49 (0) 241 963-3261
Fax: +49 (0) 241 963-1229
E-Mail: heike.lorey@aspera.com
USU Software AG
Corporate Communications
Dr. Thomas Gerick
Tel.: +49 (0) 71 41 / 48 67-440
Fax: +49 (0) 71 41 / 48 67-108
E-Mail: t.gerick@usu-software.de