Fremont, CA. March 27, 2017 – Association Management Solutions (AMS) – an industry leader in professional association management – will reach a milestone anniversary in April as the company celebrates 20 years since its formation.
The company was founded in 1997 with just three clients: The DSL Forum, the Frame Relay Forum and the Enterprise Computer Telephony Forum. Since then, the California company has continued to grow and now manages 14 clients across a range of sectors, covering technologies such as virtual reality, broadband networking, gaming and ultra-high definition video.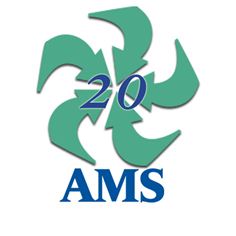 Founding partners Karen Moreland, Kirsten Machi and Lisa Winkler attribute AMS's continued success to a combination of high standards of services with a personalized, boutique feel, as well as a commitment to remaining with organisations through their entire life span.
"The technology landscape has changed dramatically over the last two decades and AMS has remained at the leading edge of association management throughout this time," said Machi "Our clients work in some of the most innovative technologies in the marketplace, providing leadership and developing standards for the rest of their industry to follow."
The founders take pride in the fact that AMS now employs 40 people at its Fremont headquarters. Focusing on maintaining a strong, personal touch, Winkler says that AMS takes a soup-to-nuts approach to client management which has been key to its continued growth.
"A big factor in our success has been the high standards of service and professionalism that we maintain, while still providing a personalized, boutique feel," said Winkler. "We're proud of what we have achieved since 1997 and of our solid client base which currently features both long-standing clients and new, exciting market associations just emerging on the marketplace. We are already looking forward to what the next twenty years will bring."