Strong industry recognition for UK cloud infrastructure innovator
London, UK – 20th September 2018 – Agile networking pioneer and UK-based hybrid cloud Platform-as-a-Service (PaaS) start-up 6point6 Cloud Gateway has won recognition in the Cloud Excellence Awards.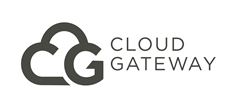 Cloud Gateway logo
6point6 Cloud Gateway's CEO and co-founder, Justin Day, picked up the ultimate cloud trophy – the cloud industry's "Golden Boot" – by winning "Cloud Professional of the Year".
Day commented: "We know we are breaking new ground here by establishing an innovative hybrid-cloud platform for true "agile networking". Winning a trophy in high-calibre awards such as the Cloud Excellence Awards is a huge honour and great testimony to all the hard work the team has put in over the last year.
On a personal note, I am very humbled to win "Cloud Professional of the Year". My success is very much due to a collaborative effort and the technical excellence of my co-founder and CTO, Neil Briscoe, supported by the dedication of the whole team."
David Webb, CEO of 6point6 said: "Justin's recognition as "Cloud Professional of the Year" is amazing news for 6point6 Cloud Gateway and the team. It shows how far we have all come in a short space of time. Here's to more success and industry accolades in the future."
The winners and runners up of the Cloud Excellence Awards were announced on September 19th at The Waldorf Hilton in London.
-ends-
About Justin Day, CEO and Co-founder, 6point6 Cloud Gateway
Justin has 17 years' worth of experience in IT working almost exclusively in networks and security and has extensive knowledge in cloud computing. Previously, Justin has worked for major corporations including Aviva and Vodafone where he was responsible for their IT network infrastructures.
Throughout his career, he has led the delivery of complex IT programmes and assisted in overhauling network architectures to streamline existing infrastructures that assist businesses in making significant cost savings. Justin has worked in both the private and public sectors, spanning the technology, telecommunications, finance and insurance industries.
About 6point6 Cloud Gateway
6point6 Cloud Gateway is an innovative UK-based start-up founded in early 2017. It is the pioneer of Agile Networking and has developed a hybrid cloud Platform-as-a-Service (PaaS).
Cloud Gateway is part of the product offering from industry experts, 6point6. Founded in 2012, 6point6 is a technology consultancy. They bring a wealth of hands-on experience to help financial service providers, media houses and government achieve more with digital. Using cutting edge technology and agile delivery methods, they help businesses to reinvent, transform and secure a brighter digital future.
www.cloudgateway.co.uk
www.twitter.com/6point6ltd
Media contact:
Rose Ross
Omarketing
E: rose@omarketing.com
T: +44 (0)20 8255 5225