Improved image quality while preventing prying eyes
Bracknell, UK, 13 March 2018 – 3M, the science-based technology company, has announced the UK launch of its High Clarity Privacy Filters, which reduce the risk of sensitive information being viewed on a monitor, laptop or tablet. The new filters are a step-change forward, providing 30 per cent more clarity on average than standard black privacy filters from 3M. This makes them ideal for applications where crisp images are essential, for instance close spreadsheet work, graphic design, CAD, or devices that have high pixel density.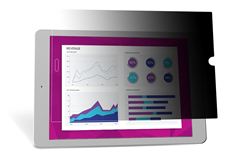 3M's micro-louvre technology is used within the new High Clarity Filters to create a glossy finish on both sides and this is what provides the enhanced visual clarity, while also blacking-out side views beyond a 60-degree viewing angle. The new range of filters also reduce blue-light transmissions from screen displays by 35 per cent, and offer protection against dust and scratches.
Says Peter Barker, EMEA Market Development Manager, Display Materials and Systems Division at 3M, "Today's modern workforce, whether in the office or in public, increasingly needs the best of both worlds: excellent image clarity, but without the risk of sensitive or confidential content being overlooked and then potentially used for malicious purposes, often referred to as 'visual hacking'. With the introduction of the General Data Protection Regulation (GDPR) and the Directive on security of network and information systems (the NIS Directive), both this year, privacy issues – including visual privacy – are higher on the business agenda than ever before."
The High Clarity Privacy Filters are available now in 14 different options, ranging from 14-27 inches, from selected resellers in the UK. More details can be found by visiting www.3M.co.uk/privacyfilters, where requests for samples can also be made.
About 3M
At 3M, we apply science in collaborative ways to improve lives daily. With $31.7 billion in sales, our 90,000 employees connect with customers all around the world.
The UK and Ireland is home to one of the largest 3M subsidiaries outside the USA, employing 2,900 people across 20 locations, including nine manufacturing sites.
Products manufactured in the UK include coated abrasives, personal safety equipment, adhesive tapes, industrial microbiology products and drug delivery systems.
Learn more about 3M's creative solutions to the world's problems at www.3M.co.uk or follow @3M_UK on Twitter.
Media contact:
Maxine Ambrose
Ambrose Communications
maxineambrose@ambrosecomms.co.uk
tel + 44 (0) 1491 412944