Weslo Housing Management has chosen the latest mobile workforce technology from 1st Touch (www.1sttouch.com) to manage its reactive repairs, pre and post inspections and void management. The new software is expected to deliver a range of efficiency and customer service benefits.
A Registered Social Landlord operating predominantly in the West Lothian and Falkirk areas, Weslo has a stock of over 2400 properties. It also has an estate management role for a further 3,500 homes for private owners. Weslo's key objective is to provide affordable, good quality, rented housing for its tenants. An important element of meeting this objective was to gain the efficiency and customer benefits available from investing in mobile technology.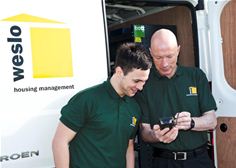 Weslo Operatives
As Weslo had chosen Aareon's QL Housing Management system for its back-office operations, they were already aware that the market's leading mobile workforce technology was available to integrate with this system.  As 1st Touch mobile software works seamlessly with its back-office counterpart it was felt to offer the ideal solution. In addition, 1st Touch's award winning mobile technology is platform agnostic, so it will work with Weslo's existing Motorola ES400 handsets, and iPads, or any alternative handheld platform used in the future. These factors along with supportive comments from other social housing organisations reinforced the decision to choose 1st Touch.
Weslo use 1st Touch to support the work of its 22 DLO reactive repairs operatives along with the 4 inspectors who carry out pre and post inspections and report on the condition of voids. With the new system in place, jobs will come in from QL direct to the operative's PDA, allowing work to be effectively scheduled and controlled. Before completion of each job the system also allows for the addition of any stock used, assisting in the overall stock management for the company.
In introducing the system 1st Touch worked closely with Weslo to ensure everything went smoothly. As Kevin Cairns ICT Manager at Weslo Housing points out, "1st Touch supplied a Forms Leader to visit our team and recreate their processes on electronic forms. They then organised administrator training and subsequently have carried out, along with our own staff, any fine-tuning and configuration that was required. In operational terms we now have a highly effective and robust system that ticks all the boxes and works extremely well with our Aareon back-office system. We are confident that this technology will free up a great deal of time and enable us to do more with the resources we have. As a result this will significantly boost efficiency and contribute to enhanced customer service levels. Ultimately, we may also consider 1st Touch for other business areas, such as Estate Management, where the software may deliver a similar set of benefits."
Robert Dent CEO of 1st Touch welcomed Kevin Cairns comments adding, "Weslo are known for the extremely high professional standards they set in all aspects of their work. Naturally then, we are delighted that they have chosen 1st Touch mobile workforce systems to manage their reactive repairs, voids and inspection operations. This will no doubt deliver significant efficiency benefits to their operation and in turn this should also boost their already high customer service levels. We look forward to working closely with them and exploring other areas where we might be able to help them derive similar benefits."