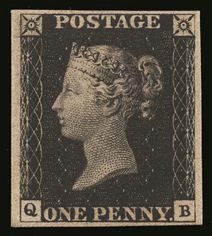 175 years ago today, on the 6th May 1840, a small, flimsy piece of paper launched a communication and commercial revolution. The piece of paper, a great British invention, just under 1 inch square and fully endorsed by Queen Victoria transformed the way people and businesses communicated, not just in Great Britain, but across the British Empire. It was, of course, the Penny Black, the world's first adhesive postage stamp.
The Penny Black's position as a 'world first' has secured its place in history – it has cachet, the one stamp that almost everyone has heard of and it is eminently collectible. Remarkably, more than 68 million Penny Blacks were printed and then hand cut by postmasters, (the early stamps were not perforated), a series of nuances creates rarity and has tended to keep prices of those in the best condition on an upwards value curve.
It is this desirability, fuelled by increasing interest coming from a growing middle class in China and the emerging economies that has seen a total return of 195.02% over the last ten years and compound annual growth rate of 11.4%* – and it is precisely this sort of performance that attracts investors seeking stable, tangible diversification options for their portfolios.
This steady 'tortoise-like' growth is actually true of many rare stamps and is not confined to the Penny Black; the medium to long-term 'buy and hold' nature can offer steady capital growth over time.
To highlight this, Stanley Gibbons, (to rare stamps what Berry Bros & Rudd is to fine wine), launched two indices to shine a spotlight on the market, both listed on Thomson Reuters and the Bloomberg Professional Service. The GB250 Index, for instance, tracks the performance of the top 250 traded investment grade British stamps over the last ten years, showing a total return of 195.02% and compound annual growth of 11.4%. During the crash of 2008/09, the Index actually saw a growth of more than 32%, when most traditional asset classes were in free-fall.
Keith Heddle, Managing Director at Stanley Gibbons Investments said;
"With Great Britain at the heart of the Penny Black's communication revolution, 6th May is an important day for Stanley Gibbons – and this significance was clearly reflected by the Google Doodle earlier this month. You could say that Queen Victoria was the Steve Jobs of her day.
By investing in such an iconic stamp you're not just looking at a tangible asset with a history of performance to help diversify your portfolio – you're buying a slice of history."
*Alternative Investment Report 2015
For further information, contact:
Stanley Gibbons Investment
0845 026 7170
Keith Heddle
Yellow Jersey PR
07768 537 739
Dominic Barretto / Alistair de Kare Silver / Fiona Walker